How can you have eternal life?
That is the most important question that anyone may ask. The Bible has a very specific answer to this question. We will answer this question with a simple outline.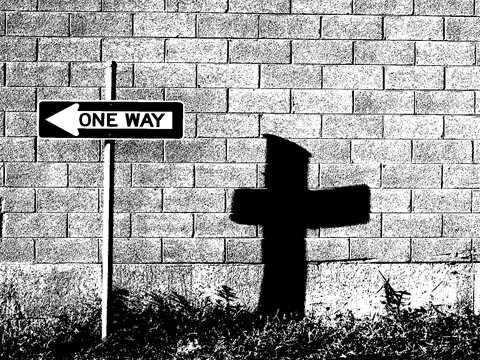 1.  God's Purpose.  God loves us and wants us to know Him.  John 3:16; John 17:3
2.  Our Problem.  We have a problem.  We have chosen to turn from God.  The Bible calls this sin.  Isaiah 53:6a; Romans 3:23
3.  The Consequence.  The result of our sin is separation from God.  Isaiah 59:2.  When we view this from an eternal perspective, the result is eternal death Romans 6:23a; Matthew 25:46a.
4.  God's Solution.  There is nothing we can do to bridge the gap of our separation from God so He solved our problem for us by sending His own Son to die for our sins and rise again to offer eternal life.  1 Timothy 1:15; 1 Timothy 2:3-6; Romans 5:8; John 3:16
5.  The Result.  With Jesus Christ's death and resurrection as the basis, we may be saved from sin, gain eternal life, and begin a real relationship with God.
Jesus bridged the gap of separation between God and us.  1 Peter 3:18
Jesus made it possible for us to become friends with God. Colossians 1:20-22
Jesus made it possible for us to be spiritually alive and forgiven of our sins.  Col. 2:13
Jesus made it possible for us to have peace with God.  Romans 5:1
Jesus made it possible for us to have eternal life. John 5:24
6.  Our Response:  There is something we must do to receive these wonderful benefits of Jesus Christ's death and resurrection.  Jesus said that we are to "repent and believe the good news" (Mark 1:15).
To repent means to turn from our sinful ways and turn to God.  Acts 20:21
To believe the good news means that you place your trust in Jesus.  Believe that His
death wiped out your sins and His resurrection brings you eternal life.  Romans 4:23;
1 Corinthians 15:2-4
We contribute nothing to this.  We simply receive it by faith.  Ephesians 2:8-9
If you wish to receive the gift of eternal life, simply call out to the Lord in faith.  The Bible says, "Everyone who calls on the Name of the Lord will be saved."  Romans 10:13
Simply pray these words in your heart and mean them and God will answer:
Lord Jesus, I am a sinner.  I have turned away from God's ways and rebelled against Him.  But right now I wish to turn to Jesus and follow Him.  Jesus, I believe you died for my sins and rose from the dead.  Based on what you have done for me (and on nothing that I have done for myself) I call on your Name in faith, believing you to save me for your sake.  Because you have saved me, I ask you now to direct the rest of my life, that I may know you and have a personal relationship with you.  I ask this in the Name of Jesus. Amen.