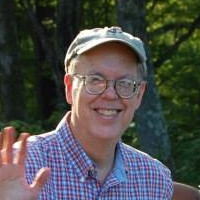 Jim McKellogg, Elder, Governing Board Secretary, Prayer Team Coordinator
Email: Jim@florencealliance.org
Jim is an elder and member of the Governing Board at Florence Alliance Church and serves as the Board Secretary. In addition, Jim leads one of the church's life groups, the head of our Prayer Team and is in charge of greeting church guests. Jim also frequently helps with our newly-created Men's Ministry. In the past, Jim has taught the adult Sunday School class.
Jim has been a part of Florence Alliance Church since his marriage to Renee in 1990. Jim is a retired librarian. He loves to read, mostly history and historical fiction, but also enjoys classic films, cooking and traveling–especially to the Ohio Amish Country with his wife. He is not a sports fanatic but he is a fan of the University of Tennessee Volunteers, the Cleveland Indians and the Cleveland Browns.